While it may only seem like yesterday that your little darlings were off for Christmas, it's that time again, with February half term just around the corner. Here at Fairview Sailing, we know how important it is to spend quality time together as a family, and what better way to do it than exploring the beautiful south coast.
We are very lucky to have some of the country's greatest attractions here on our doorstep, all of which are easily accessible from the stunning Solent. Here's our top five things to do this February half term…
Learn the basics of sailing
Whether you can already sail and want your children to learn or are looking for a day learning the basics for all the family, Fairview Sailing can help. All of our skippers are highly experienced and are great with sharing their knowledge with others.
Hop on board where you'll be given an introduction to your yacht, before setting off on the Solent for a day's sailing. Learn how to tie knots, raise the sails and understand what nautical terms such as 'port, starboard, gib line and spinnaker' mean, while spending some quality time together as a family. Once you've enjoyed your day, it may be time to enroll on an RYA start yachting or competent crew course. Speak to us about arranging this for you and your family.
Save 20% on bareboat charters on the Solent
If you're looking to do something a little different with you kids this half term, why not consider heading down to the south coast for a few days on the water, where you can enjoy our special half term discount and save 20% off your charter.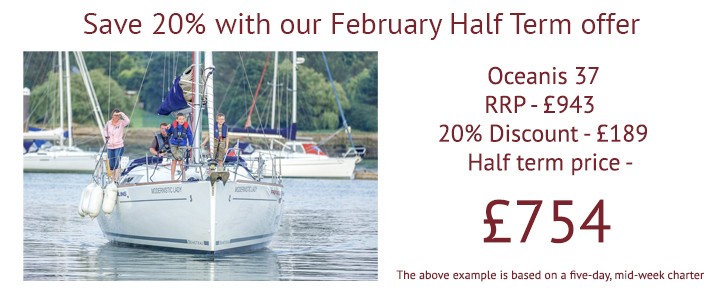 All of our bareboat yacht charters start from our base in the pretty village of Hamble, a short distance from Southampton. From here, you can expect world-class sailing conditions and fascinating scenery, from beautiful natural countryside to historic warships. The protected waters provide a special sailing experience, suitable for both novices and experienced sailors, and as such, are a popular choice for first timers and returning guests year after year.
If you can't sail yourself, we are able to provide you with a skipper*. Contact us today to find out more.
Hire a RIB and explore the south coast
If sailing on a yacht isn't your thing, it doesn't mean you can't enjoy the south coast by water this February half term. Head off from our base at Port Hamble Marina on one of our RIBs and enjoy blasting around the Solent on an adventure the kids will love.
If you don't have your RYA Level Two Powerboat, don't worry, we can provide a skipper* to take you wherever you want to go, from historic Portsmouth to the scenic Isle of Wight. Wherever you choose to travel to, we can guarantee your day on the RIB will be an exhilarating experience for all.
Related article: A complete guide to sailing on the Solent
Visit the Portsmouth Historic Dockyard
Head east from Hamble and you'll find yourself in the maritime city of Portsmouth. Famous for its Historic Dockyard, Portsmouth is brimming with naval history and is home to the world famous HMS Victory, the Royal Navy flagship captained by Lord Admiral Nelson during the Battle of Trafalgar in 1805.The renovated warship is a sight to behold and a must when visiting the city. In addition to Victory, visitors can see various other naval gems including HMS Warrior and the Mary Rose.
During the February half term, visitors are in for a real treat, with tons of half term activities to take part in. Hop on board HMS Victory and find out what life was really like during the Battle of Trafalgar as you ask Captain Hardy questions about the time, make your own scrapheap submarine, build a life-like lego ship and make a Tudor inspired petal bag – whatever your kids fancy taking part in, all of the half term activities are included in a valid attraction ticket.
Head over to the Isle of Wight
Head across the water to the Isle of Wight this half term where you'll be spoilt for choice with things to do! Spend a day at The Needles Attraction Park, where great adventures await and the views out over the natural sandstone formations are glorious.
Pay a visit to the Robin Hill Country Park after dark and celebrate the Chinese New Year with their vibrant 'Spirit of the Orient' displays and illuminations or hike along the tops of some of the Island's magnificent cliff. There are also plenty of cycle paths dotted around the island, so if it's outdoor fun you're looking for, you won't be disappointed.
Find out more
To find out more about joining us for an adventure to remember this February half term and saving 20%, call us today on 02380 457023 or email info@fairviewsailing.co.uk
*Skipper available at additional cost. Speak to us today for more information